Girls Names
Edit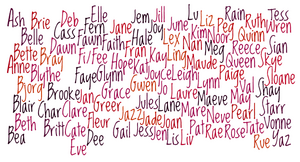 All names that are established girl names go here. If you add a name, please check to see if it has already been listed. Also please put them in alphebetical order!
If you have a new spelling/variation please go to that names specific page and add it to the Variations section and please use an "," to differentiate. (Ex: Sophia, Sofia)
Small Note: Not all of these names have their own pages yet, which is why this list is seperate from the actual Category, Girls. Please feel free to add names or pages to help complete the Wikia!
Abigail, Adalyn, Adelaide, Alexa, Alexandra, Alexis, Alice, Aliya , Allison, Alyssa, Amanda, Amelia, Amy, Andrea, Anne, Anna, Annabelle, Arabella, Ariana, Ariel, Aubrey, Audrey, Aurora, Autumn,
Bella, Bethany, Brenna, Brianna, Brooke, Brooklyn, Brynn
Callie, Camilla, Candice, Carole, Caroline, Cassandra, Cecily, Charlotte, Chloe, Claire, Clarissa, Cordelia
Dahlia, Daniella, Danielle, Delilah, Destiny,
Elaine, Elizabeth, Ella, Ellie, Emily, Emma, Emmalyn, Eve, Evelyn,
Faith, Faye, Fleur, Florence
Gabriella, Gemma, Genesis, Gia, Gianna, Gloria, Grace
Hailey, Hannah, Helen, Henrietta, Holly
Isabeau, Isabella, Isabelle, Isadora,
Jane, Janis, Jasmine, Jocelyn, Julia, Julianna, Juliet, Juniper
Kaitlyn, Katherine, Kayla, Kaylie, Kimberly, Kylie, Kyrie
Laurel, Lauren, Layla, Leah, Lila, Liliana, Lillian, Lily, Lindsey, Lucinda, Lucy, Lydia,
Madeline, Madison, Mae, Marcia, Maria, Mariah, Marie, Margaret, Maya, Melanie, Melody, Mia, Michaela, Michelle, Miley, Molly,
Naomi, Natalia, Natalie, Neveah, Noelle, Nora
Odessa, Odette, Olive, Olivia, Opal, Ophelia
Paula, Penelope, Persepone, Pippa, Poppy
Quilla, Quintana
Rachel, Rebecca, Rochelle, Rosalia, Rosalie, Rose
Samantha, Sarah, Savannah, Scarlett, Serenity, Sophia, Sophie, Summer, Stella, Stephanie, Sydney
Tabitha, Tessa, Tia, Tiffany, Trinity
Ursala,
Valerie, Victoria, Veronica, Violet, Violetta
Wendy, Winona, Willa, Willow, Wren
Xanthe, Xena
Yasmin, Yvette, Yvonne
Zelda, Zinnia, Zoe, Zola